Home
All courses
INTERACTIVE BOOK-PLATFORM NOTES. Starter (A1.1)
INTERACTIVE BOOK-PLATFORM NOTES. Starter (A1.1)
Beginner
43 lessons
~ 3900 min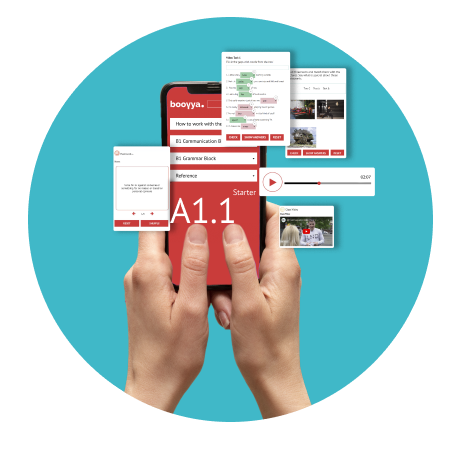 About course
Green Forest Teaching Centre developed a unique platform for learning the English language. You can it the platform to get a desired level of language on your own or with your tutor.
NOTES platform advantages:
you can use any gadget that has internet connection;

you don't need any extra space on your gadget to upload the platform since you only access it online;

has the tasks aimed at revision of previously learned language which reinforces your knowledge;

has audio and video on a large variety of topics which helps you with your listening skills.
More than 50 thousand students have already studied with NOTES in Ukraine, Poland and the Netherlands. We get tons of positive feedback both from students and the teachers who use NOTES in their classes.
Starter (А1.1) level content:
The platform NOTES is completely in English.
Here you can find the first lesson of the course-book. If you still have any questions about how the platform works, complete the lesson to test the platform, see the lesson structure, types of tasks and the content of the book.
*This course is not included in the subscription; you can only purchase it separately.
This course includes:
Level:

Beginner

3900 minutes
43 lessons
Teacher's language:

English
Course program
---
43 LESSONS
Communication Block (31 lessons)
The Communicative Approach is the most popular and effective method of language learning. The authors of the NOTES textbook have designed this block, focusing on vocabulary and conversational skills. In this block, you will learn new words and expressions, practice them in context, and improve your listening skills.
Grammar Block (12 lessons)
In the grammar block, each lesson ALWAYS includes a video explanation by the teacher. So, you don't have to worry about dealing with complex grammar on your own. Additionally, concise and visual explanations can be found in tables. These tables are useful not only for visual learners but also for those who want additional examples on the topic.
VIDEO
The video format helps us make grammar explanations more accessible and understandable. Furthermore, the videos in the textbook help demonstrate new vocabulary in context. Don't ignore our videos as you progress through the level – they will help you quickly memorize the necessary vocabulary and grammar.
AUDIO
Audio tasks are an essential part of the language learning process, especially at the beginner levels. We have not only included such tasks in the textbook but also provided the opportunity to listen to any new or unfamiliar word. Each word from the lesson can be found with audio pronunciation in the reference tab (in the wordlist section), and complete transcriptions are available for each listening task at the end of the lesson.
Unique and Contemporary Content
NOTES is an uncensored textbook. We noticed that British editions tend to avoid a wide range of topics in their textbooks, such as religion, politics, and sex. That's why we decided to create a textbook that teaches you to speak about these topics in English. The unconventional, witty, and contemporary texts were specifically designed for you to learn real-life English today.
More than 20 types of tasks
You won't get bored with tasks in NOTES for several reasons. Firstly, these tasks are diverse – fill in the gaps, match, select, find mistakes, and more. There are over 20 types of tasks! Secondly, you can immediately check yourself. At the end of almost every task, there are three buttons: CHECK, SHOW ANSWERS, and RESET. This allows you to see your progress and control how well you have mastered the material.
Revision
Both the Communication Block and Grammar Block include revision. In the communication block, every 3rd lesson is a revision lesson. In the grammar block, there is one revision lesson at the end.
Reference
Here, you will find all the word lists by topic and grammar tables. This serves as your concise summary of the entire course. Use it to quickly recall the necessary information or review the entire course.
You can view the detailed content of the textbook HERE.
---
Who is this course for
For Teachers and Tutors
The textbook offers modern topics, interesting texts, over 20 different types of tasks, grammar tables, and tests. Download the textbook for yourself and your students, and you'll spend a minimal amount of time preparing for lessons! This tutorial will be easily accessible on any device. However, if you prefer, you can also purchase a printed version. Moreover, the textbook already includes tasks designed for pair and group work, games, discussion and debate prompts. The authors of the educational platform have employed the most effective and proven methods, such as Communicative Language Teaching, the Lexical Approach, TBL (Task-Based Learning), TTT (Test, Teach, Test), TPR (Total Physical Response), as well as elements of the Audio-Lingual Method and others.
For self study
Video instructions for the tasks, interactive exercises with self-testing capability, and abundant audio and video materials enable you to independently progress through any level. If you come across a task in the textbook designed for pair work, simply use a recorder to record yourself, transforming the dialogue into a monologue where you express your own opinion. Grammar and vocabulary presentation follow the Guided Discovery Approach, which is one of the most effective approaches to learning. It actively engages and promotes the independence of the student.
---
What will you get after the course
You will be able to successfully complete this level entirely on your own, as all the necessary materials are available on the interactive platform. The textbook comprehensively explains all the rules and vocabulary of Level A1.1 and reinforces them through exercises, tests, as well as video and audio materials.
---
This course includes:
Level:

Beginner

3900 minutes
43 lessons
Teacher's language:

English